The holidays are coming! Here are some gift ideas for your favorite contractor, or maybe, your customers.  Check  these out:
These are the boots that built America. Along with the longer 877, Red Wing calls the hand-crafted 875 boots an "icon" for its brand. Introduced more than 50 years ago, the 6-inch boots feature the same design as they did then with lightweight Goodyear welt construction and a white traction tread sole, triple stitched all around. The moccasin-quality brown leather is tanned using sequoia bark and looks right on the job or in the field hunting. $250 at various online retailers, or click here to find a store in your area.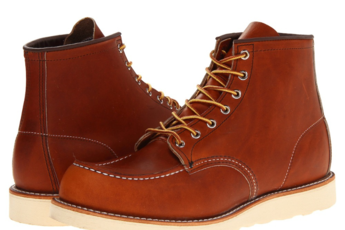 This custom sturdy bucket boss reusable tool pouch is made of durable ripstop fabric. It has 2 durable fabric tool loops and 6 pockets filled with one dozen delicious chewy chocolate chip cookies and 5 – 2 oz. chocolate construction tools; chocolate hard hat, chocolate pliers, chocolate wrench, chocolate screwdriver and chocolate hammer. All wrapped and packaged with a bright red bow! Perfect for a construction or contractor company for holiday gifts, thank you gifts and more! Silk screen your logo or offered with a hang tag!
They might be named after ranch work, but Ironclad's Ranchworx gloves are tough enough to get the job done on the jobsite as well. The gloves are made from a double layer of Ironclad's Bullwhip leather. And unlike some double-layered leather gloves we looked at, the Ranchworx doesn't have seams right inthe middle of the fingers thanks to the RollTop construction. The saddle and thumb area of these gloves are reinforced by Kevlar, the stuff bullet proof vests are made of, and they feature flexible finger impact protection. Plus, Ironclad says the gloves can be washed and they won't wash out or shrink. – You can get them at Amazon.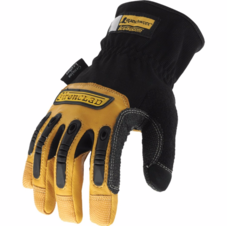 Miniature rolling tool box is a Contractor's dream come true… pop open this rolling tool cart andexperience a delicious break time snack. Truly a unique desktop tool cart. Each cart is constructed with .24 gauge steel, powder coated in red, has a rubber mat, and is felt lined. Perfect client gifts, holiday gifts, corporate gifts for construction companies, contractors, and other themed indusries. Themed Chocolate tools for your company. Customize this gift with your logo.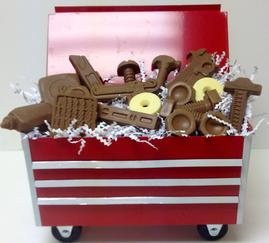 The lightest and most compact multi-use tool ever developed. This ultra-light, durable and precision crafted 6-in-1 mini-tool has a straight knife blade and a serrated cutting surface, a flat screwdriver, a Phillips screwdriver, a micro-sized screwdriver, and a bottle opener, and weighs in at an amazing 0.5 oz. The tool makes minor repairs, assemblies, installations, and hundreds of jobs an easy undertaking. Ideal for indoor or outdoor activities and emergency situations. Customize with your logo.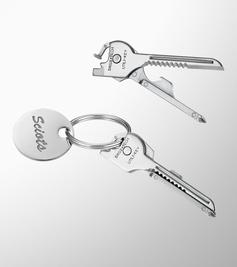 This gift would make an awesome addition to any mancave, office, garage, shed, shop or any combination thereof. This chart features more than 300 hand-illustrated tools and arranges them into a Hand Tool Family Tree by basic function. A hand-crafted compendium of ingenious and essential devices, this chart is a complete cut-list of the tools that empower makers and artisans. And the chart is printed with brass and aluminum metallic inks to give it a shop-ready sheen. Each print is signed and numbered by the artists, and comes packaged in a Pop Chart Lab Test Tube.You can have your very own 2-foot by 3-foot copy of this piece of art for $36 by visiting the Pop Chart website.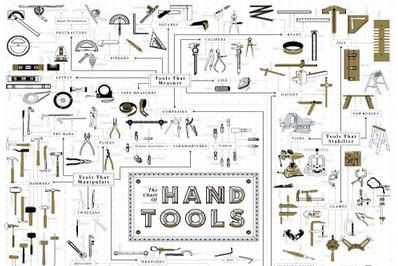 You might remember the Atlas. It finished at no. 2 on our list of The 5 Toughest Smartphone Cases for Construction Work. If you're familiar with the more-widely-known LifeProof brand of waterproof/dustproof cases, then you know what the Incipio Atlas is all about as well. The Atlas is more highly recommended. It offers five layers of protection and, unlike the LifeProof, offers a glass screen protector that lies flush against the screen of the phone. That means no squishy feel when tapping or scrolling around like you typically get with the flimsy plastic screen protectors on LifeProof and OtterBox cases. Incipio backs the Atlas' waterproof claims with a 1-year warranty that covers the phone against any damage. The iPhone 5 version can be had for as little as $28 on Amazon and the Atlas ID, designed for the iPhone 5S's fingerprint sensor, is currently on sale at Incipio's website.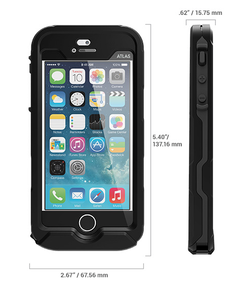 This jacket is designed to keep you warm and dry in the most miserable conditions. Carhartt's 3-in-1 Quick Duck jacket gives you the company's legendary rugged, washable canvas duck exterior shell with a removable inner jacket with knit cuffs and waistband to keep out the wind. Both the outer shell and inner jacket are treated for rain resistance. The outer shell offers a storm flap zipper and a removable/adjustable hood. Two inside pockets keep your phone and/or wallet secure. They run $200 at the Carhartt website.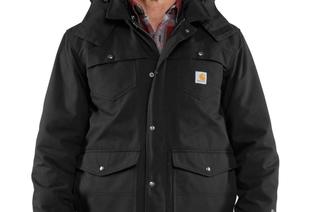 A useful, long-lasting promotional product, the Magnetic Screwdriver is a business promotional gift featuring a durable aluminum barrel with 8 magnetic screwdriver bits (4 x crosshead, 4 x slotted) which are stored within the barrel. In your choice of three anodized aluminum colors with chrome accents like a pen clip. Laser engrave with your company's name for a gift that will make a lasting impression. This convenient pocket tool is not to be used for electrical repairs.